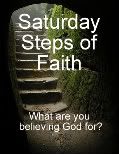 I just want to thank my friend
Stephanie
at
Truthsharer
for the
Golden Heart
award. It is a humbling honor. She was one of my first blog friends and I just thank God for her dedication to the TRUTH. I love how she always starts with the WORD. She is most certainly a Truthsharer. Thank you Stephanie.
I also join my friend
Lisa
at
My Passionate Pursuit
for her Saturday Steps of Faith. She blesses my heart daily and if you read her post yesterday about adoption you will see why I extend the
Golden Heart
to her. She has a heart of gold and I am so glad that she is my friend.
I am believing God today, that he will continue to 'grow me' as a prayer warrior for Him. I desire so much to be a more effective prayer warrior for Him. I desire to be able to intercede for others. I desire to make a difference in this world for my Lord. I believe in the power of prayer.
"Let your heart be completely devoted to the Lord our God to walk in His ordinances and to keep His commands, as it is today." (1 Kings 8:61)
I also extend the
Golden Heart
to a new friend. Her daughter Bentley will be having heart surgery on the 20th and she is standing firm in her faith.
Crystal
has stolen my heart with her honesty and precious heart. Please be in prayer for them as they anticipate the upcoming surgery.
Have a wonderful Mother's Day.