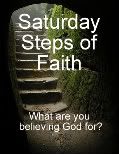 Joining Lisa today for our faithful journey.
"For we through the spirit eagerly wait for the hope of righteousness by faith" (Galatians 5:5)

I am
believing God
for that wonderful gift of righteousness that we are able to tap into ONLY because of Him.
I am striving daily toward more "right living" in Him. Because of Christ, I have been given the ability to be more like my Savior. God gave us His Word that is full of godly instruction for our lives. If we study His Word, spend time with Him and seek His face, we can live righteous lives.
I am believing that He will continue to draw me closer, hold me tighter, show me more and increase my faith.
In His Grip of Grace,
Beth