>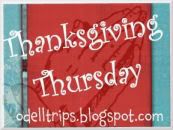 >
Thank you once again sweet
SONYA
for letting us join you with our thankful hearts today.
1. I am thankful that
HE is my Healing Rain
. He brings mercy and joy as He washes us and soaks us in the water that flows down from Him in Heaven.
".. Pour out your heart like water before the face of the Lord." (Lamentations 2:19)
2. I am thankful that
HE is Jesus Messiah
. He became sin that knew no sin. That spotless Lamb of God took on the sins of the world - our sins - for us.
"For He made Him who knew no sin to be sin for us, that we might become the righteousness of God in Him." (2 Corinthians 5:21)
3. I am thankful that HE is Mighty to Save. He is the Author of Salvation and we have the opportunity for eternal life through the precious shed blood of Jesus, through His burial and through His conquering of the grave!
"Yet in all these things we are more than conquerors through Him who loved us. (Romans 8:37)
4. I am thankful that HE is my All in All. He is everything to me. He is the only thing that I need. He is the beginning and the end.
"... but Christ is all and in all." (Colossians 3:11b)
5. I am thankful that HE is Omnipotent. Jesus knows Who we are. Jesus knows What we are and Jesus comes to Where we are. Praise You LORD!
"..Alleluia! For the Lord God Omnipotent reigns!" (Revelation 19:6)