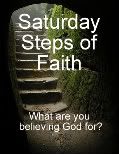 I join Lisa for this fabulous way to remind ourselves to continue to Believe God in all things.
"Our soul waits for the LORD; he is our help and our shield" (Psalm 33:20)

Our church has been under such spiritual attack in these last few months. The devil has attacked our church in the area of the health of our members. We have suffered one devastating diagnosis after another. We have seen lives lost to cancer. We have seen pain and suffering. We have seen families torn apart.
But our church has bound together in unity and prayer. Our body has become stronger. We have become more focused on God. We have become more focused on each other. We have truly come together against the forces of evil and together in agreement for what our God can do.
We continue to come together in the evening in our sanctuary and falling on our faces in prayer and petition. We have seen prayers answered. We have seen miracles. We have seen the love in our church just blossom and grow. We continue to pray in faith, believing God, waiting for Him to show Himself mighty. We still seek Him. We don't give up. We wait.
I praise Him for who He is.
I praise Him for what He does.
I praise Him because He is.
Hands lifted high.
Heart open wide.
I wait on the Lord.
Expecting.
I cry out before Him.
I pour out to Him.
I wait on the Lord.
Exalting.
Inhaling. Receiving a touch. Glimpsing His splendor. Tasting His Glory.
I'm Believing God.
In His Grip,
Beth