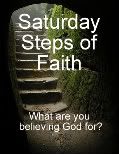 Thanks Lisa for this awesome opportunity to focus on what we are believing God for.
I am believing God for continuing to show himself mighty in my life. I desire nothing more than to draw closer and closer to Him. The more I learn, the more I desire to know. The more I feel Him, the more I desire to reach up. The more I see His hand at work, the more I want to give Him praise.
There are days when I just cry out to Him because I want to 'hear' Him speak to me. It's like I just need that affirmation from Him that I am His. I almost feel desperate for a Word. But then that still small voice reminds me that I am His because of my faith. I have to know He is there, even when I can't always feel it. Then when I settle my spirit down.. when I focus on what I DO know... He speaks to my heart.
I am believing God....
"For your Word has given me life." Psalm 119:50b