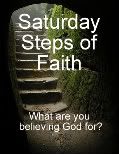 I join my sweet friend
LISA
today in her pursuit of what we are believing God for in our lives.
We had the most fabulous VBS this week and had 6 children give their lives to the Lord! That, my friends, is what VBS is all about. It's about reaching out to the children who need Jesus in a BIG way. Children that won't have a chance if someone doesn't take that first step and invite them to church. Children that my husband spent 2 hours each day picking up and dropping off in the church van so that they could come and learn about their wonderful Savior. Praise His Holy Name and shout Hallelujah!! Oh, yes, God is so good. He is so faithful. He is so mighty. There's nothing my God can't do.
This coming week, we are having a parish-wide (county for you other 49 states!) Festival of Hope crusade. It is like a big revival that is non-denominational and it involves the whole parish and all the churches regardless of the name on the door.
The churches that are 'heading' it up, have divided the parish into sections and we have been going door to door and leaving tracts and other information and even praying for each house - each family. Every house in West Carroll Parish has been prayed for individually. That is 12,000 people. Our parish is about 37 miles long and 18 miles wide. Besides the main town of Oak Grove (about 3,000 people), there are 7 communities that make up this parish. We are really like one big family. We do alot of things that encompass that whole parish and we know people from all over.
I am
believing God
, that in the 6 nights of this crusade, that He is going to do mighty things in this parish. I pray that eyes will be opened. I pray that hearts will be humbled. I pray that people will see their need for a Savior. I pray that boundaries will be erased. I pray that bondages will be broken. I pray that we might be consumed with the
love of
and the
love for
our Precious Lord.
Oh, yes, my friends. I am believing God for MIGHTY things in the lives of this wonderful little parish that I live in.
Thank you Lord for what you are going to do in this place this coming week. Be with Scotty McDowell as he brings our message each night. Be with those of us who are playing in the orchestra and those that are singing, that we do it all for Your Glory. I praise you for the lives that will be changed and the hearts that will get right. I praise you for the wonderful opportunity you have given us to reach out and spread the gospel.