As I seek -
I hunger.... I yearn.... I search...
As I seek -
I find... I discover.... I glean....
As I seek -
I learn... I grow... I love...
Seeking the One who created
.
Seeking the One who perfected.
Seeking the One who descended and suffered.
Seeking the One who was crucified and buried
.
Seeking the One who arose and ascended!
Seeking the One who will return.
Finding Him and
immersing in His goodness,
soaking in His mercy,
basking in His glory.
Finding Him and
being washed in His rain,
cleansed by His blood,
made whole by His sacrifice.
As I search, seek and find -
I am redeemed, restored, revived.
I am forgiven, found faultless, free.
I will Praise Him, glorify His name, rejoice in His presence, sing a new song unto the Lord.
I am believing God that He will come to me and show me the way.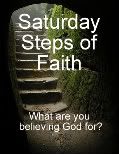 +++++++++++++++++++++++++++++++
HAPPY 20TH BIRTHDAY MY SWEET ASHLIE!
Hard to believe that my precious baby was born 20 years ago. I will never forget the joy that filled my heart when you were born perfectly healthy after 4 months of uncertainty during a difficult pregnancy.
You have been one of the lights of my life. You have made life exciting and sometimes turbulent! You are your own person with your own definite ideas.
When you were born, you came home to 2 big sisters who loved you so much. We all babied you and catered to your every whim. You were everyones little baby. Everyones little doll. Spoiled? Perhaps.
You have grown into a beautiful young woman. Not many girls can become mothers and wives at the age of 17 with the same grace that you did. You embraced motherhood with such passion and the love you have for your little boys just makes my heart swell with pride. You are a wonderful mother and Bryton and Sawyer are blessed beyond measure.
I see you mature spiritually and really seek the Lord. I see you bringing those Truths that your daddy and I taught you into your household and teaching Bryton about Jesus. I see you blossoming into a young lady.
I see all these things, but when I look at you, I still see my baby. My little Ash-ash. My precious child. My miracle.
I love you sweetie! Have a great day! You are NOT a teenager anymore!
Love, Mama