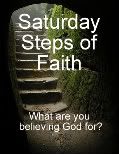 I spent the morning with our friend
J.D. and his wife Lois
. Jimbo and I went to their house to drink coffee and visit (they live about 30 seconds from us). They came in from Shreveport last night and are just waiting to hear from the doctor on what the next step is. We had the best visit and it was so good to get some great hugs out of both of them! I love them so much.
J.D. looks really tired and the medication he is on causes him to be a little loopy at times. He is in such good spirits and is just believing God for whatever His will is for his life. He said he is at peace with God either way. Whether God calls him home or if God provides an earthly healing.
The verse that God gave me yesterday spoke volumes to my heart.
"Jesus replied, "What is impossible with men is possible with God" (Luke 18:27)
I am
believing God
today that His perfect will be done. I am
believing God
that no matter what happens, God is still God and He is still on the Throne. I am
believing God
today that even when our circumstances seem bleak, He care about us and for us. He loves us and desires good things for us. He knows best and He will be there to take care of the details. Even when we don't know how we can go on, He knows and He provides the way.
I am believing God today that He will help me to keep my eyes on Him and help me to keep my focus on the eternal.
Today...
I am believing God
.