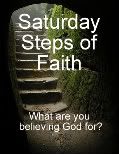 I love joining
Lisa
for this great way to begin my Saturday. I am believing God this week that He will continue guiding me on my journey higher and higher with Him.
This is a familiar verse, but I saw it in a new way today. With new eyes. With new discernment. With an open heart. With a little conviction. (okay, a lot of conviction)
"...that you may walk worthy of the Lord, fully pleasing Him, being fruitful in every good work and increasing in the knowledge of God" (Colossians 1:10)
Do I walk worthy? Worthy of Him? I want to. I desire to. But am I succeeding? I am believing God that each day He will equip me and strengthen me to be able to live according to His commands.
Am I pleasing? To Him? I try to be. My heart wants to be. But is it happening? I am believing God that He will burden my heart and give me the ability to live my life in a manner that pleases Him.
Am I fruitful? For Him? Oh, I strive to be. My entire being strives to be. But is there fruit? I am believing God that He will make me bolder for Him that I may be a witness and plant those seeds unto harvest.
Am I increasing in knowledge? Of Him? I crave the knowledge of Christ. I so desire a deeper, more intimate relationship with Him. So, do I know Him more? I am believing God that He will continue to cause me to seek more, dig deeper, press farther, and retain more knowledge that I might just overflow with His teachings and spill out onto others.
Thank you precious Lord, that you give us the desires of our heart. My desire is to never get enough of you. I want to step higher and walk bolder with you and for you. You are my all in all.