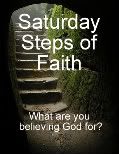 I am joining my friend
Lisa
for her Saturday Steps today.
"But my heart stands in awe of Your Word. I rejoice at Your Word as one who finds great treasure" (Psalm 119:161-162)

There is treasure to be found in the holy inspired Word of God and I am believing God today that with the help of my precious Lord, He will enable me to continually find treasure upon treasure in His Word.

The treasure is there, my friends, but we will only find it if we are actively looking for it. We have to dig and search. We have to seek.

We will never find the treasure that is buried in the God-inspired, God-breathed Word if we aren't diligently devouring the pages of the spoken Word. Things worth finding are worth searching for.

Everytime we open our bibles we should be so thankful that we have such a powerful weapon right in our hands! We should be thankful that at this moment in our lives, we can read the Word of God freely and without fear. We should be thankful that the truths in His Word are for everyone - the truths are for us.



I am believing God, that as I seek - I will find.



I have some prayer requests on my "At His Feet" link if you feel led to join me.