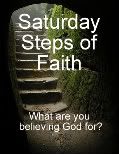 Thank you

Lisa

for hosting this.

Sometimes life throws things at us that catch us off guard. Sometimes we see it coming and just haven't taken the steps necessary to prepare. Sometimes things just happen. Sometimes life happens.

I see so many hurting families through my blogging endeavor. So many sick babies and children. So many women that are carrying babies with problems and defects. So many women that are dealing with infertility. So many women that have lost babies, children and loved ones. So many people facing hardship. So many people that need Jesus in a mighty way. I see things that people are dealing with that they shouldn't have to deal with. I see people having to pick up the pieces of brokenness when they deserve wholeness. I see hurting hearts. I see wounded souls. I see emptiness that needs to be filled.

There is only one solution to being able to deal with any of these issues. There is only one answer to any of these problems.



God.



He is, He can, He will, He does, He heals, He restores, He rebuilds, He fills.

I am

believing God

that I will always remember

who He is

and

what He has done

for me and

what He promises

in His Word.

I desire to

do

nothing less than bring him glory and honor through my life.

I desire to

be

nothing less than what He has purposed for me to be.

I desire to

give

Him nothing less than what He deserves from me.

I desire to be…



An Instrument 4 His Glory

.